with Filipinx artist-musician, Nityalila Saulo
Don't Miss Out!
If you missed the last one and want to join the next Baybayin Learning Party, please subscribe to our mailing list so that we can send you details on the next date and how to register. Thank you! Promise we won't spam!
Baybayin Klass
Over a thousand Filipinos all over the world have joined the Baybayin Learning Party zooming in from many parts of The Philippines, Australia, Canada, Indonesia, Japan, Thailand, Vietnam, United Arab Emirates, United Kingdom, and United States of America.
Listen to "Mana" (a Baybayin song)
composed and sung by Nityalila
Rhythm Guitar & Vocals: Nityalila
Drums: Tim De Ramos
Bass: Rommel Dela Cruz
Lead Guitar: Tim Cada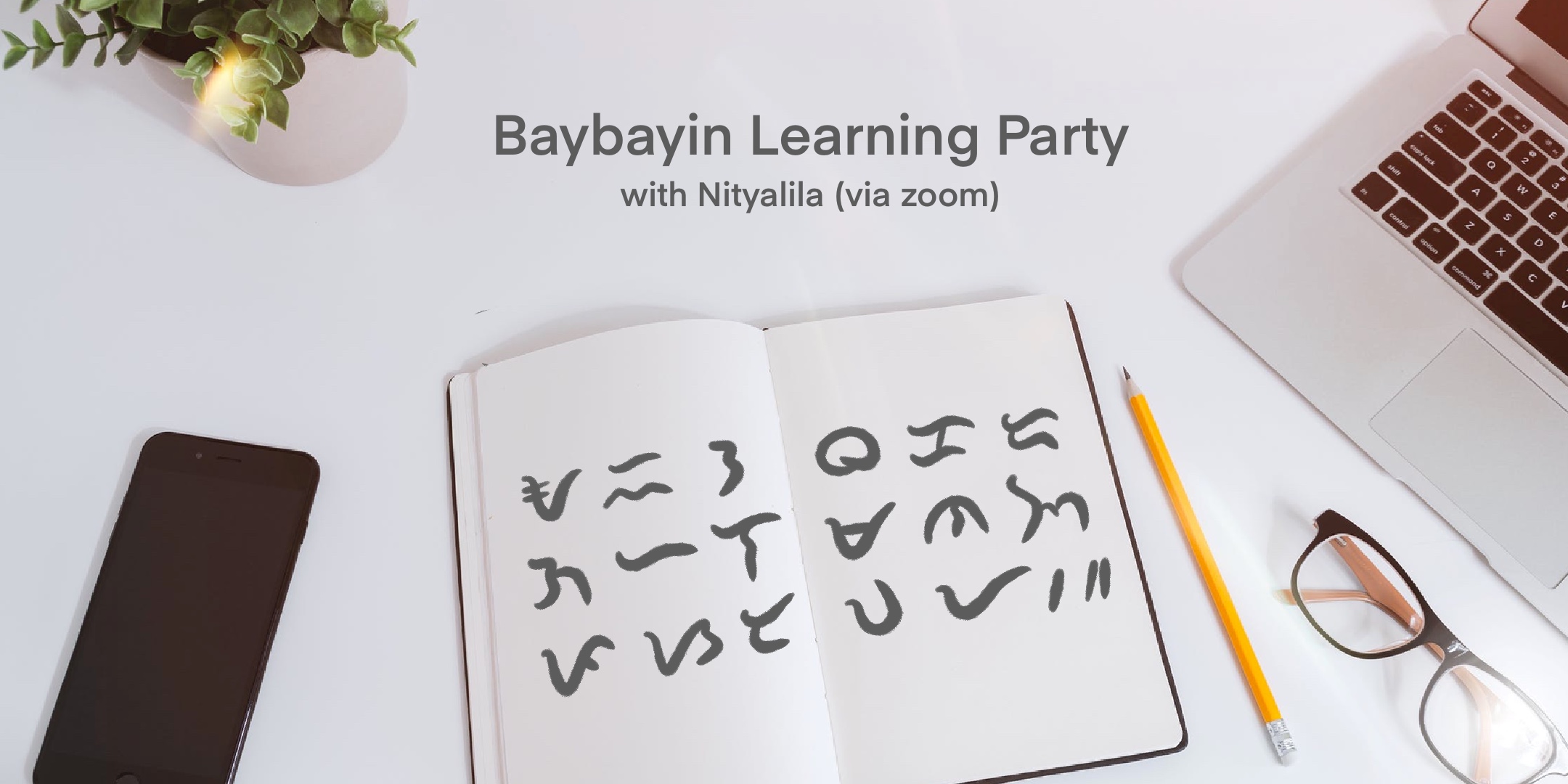 Baybayin, Buhayin!
Filipino artist-musician, Nityalila Saulo is on a mission to inspire modern Filipinos to relearn and rediscover their roots through Baybayin. She hosts free classes online to spread Baybayin literacy for Filipino communities around the world. In 2019,  she received her Baybayin Teacher's certification in the Philippines through GINHAWA Inc. This class gave her a renewed sense of appreciation of her identity as a Filipino. Now based in San Diego, California, her desire to teach Baybayin is stronger than ever. It helps her to reaffirm her roots and hopes to help other Filipinos to rediscover themselves and understand their culture through the art and power of Baybayin.
Baybayin is one of the pre-colonial ancient writing scripts of the Philippines. At the end of this class, you will be able to read and write Baybayin, write your name in Baybayin, and compose a short letter in Baybayin. This class is open to ages 14 and older and must be able to understand Filipino.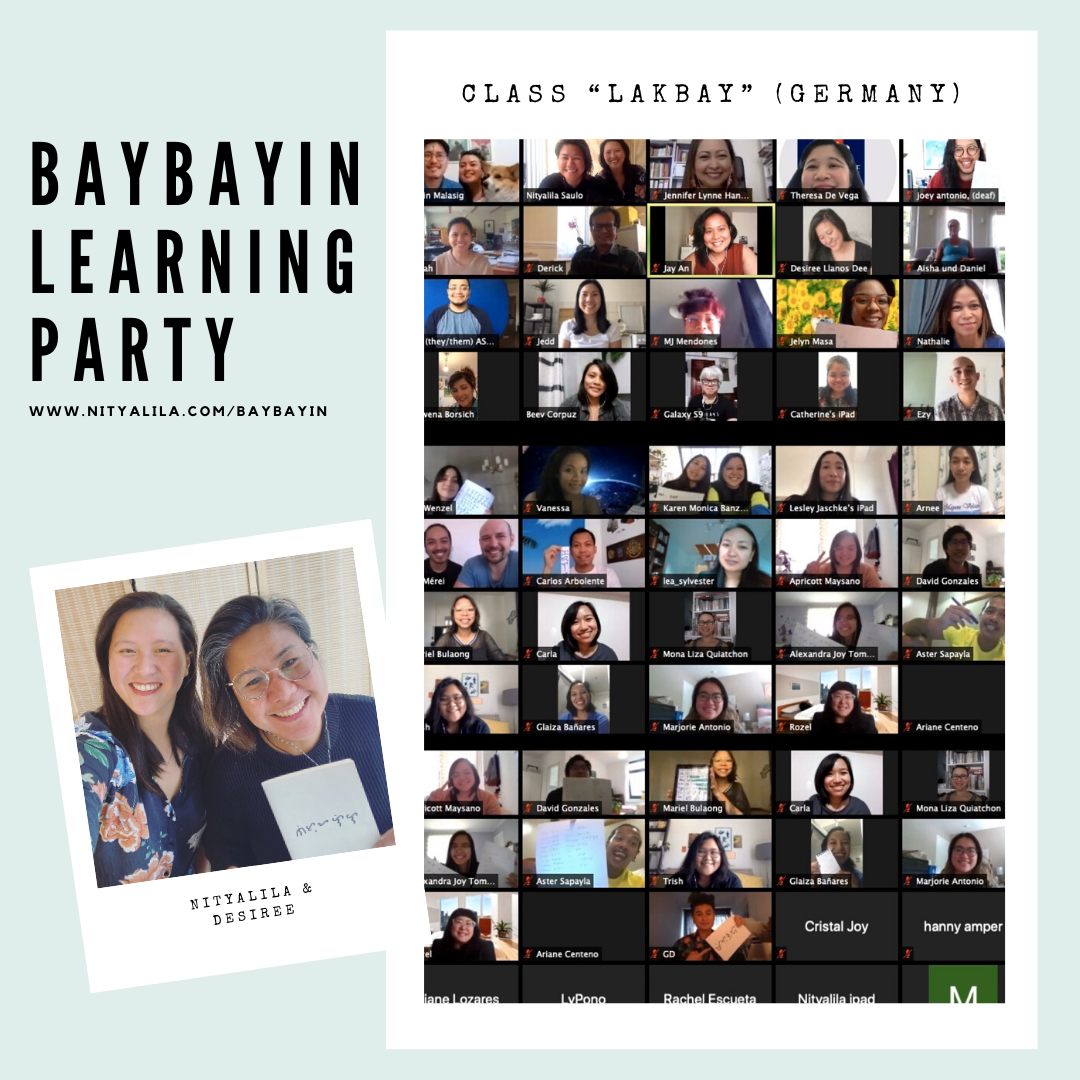 The expert handling of Nityalila and the interest of the "students" I believe contributed to a great learning experience. I must confess to being very excited about learning Baybayin as another means of expression and communication.
It was the most educational half an hour of my life! I recommend this to people who want to learn Baybayin but has difficulty focusing or grasping linguistic concepts. Nityalila made complicated things so much easier to understand. Thank you so much for all your hard work! Mabuhay!
I'd encourage everyone to join this Baybayin class! Nityalila was very effective in communicating in the virtual setting, the visual aid was perfect, and the exercises were enough to get you to learn all the characters in 90 minutes! A little history of the script and each character is explained as well which made recalling the alphabet a lot easier. Couldn't ask for a better class.
Thank you so much, Nityalila, for this class. I highly recommend your class to anyone who is interested in learning Baybayin and its background, or to anyone who is interested in the Filipino language and native Filipino script writing. The class was easy to follow, and I was really surprised and happy to be able to write in Baybayin at the end of the class.
Baybayin for me is the intersection of art, language, and energy. It's the kind of beauty that once you see, you can't unsee. It stirred something in me because I started seeing the ancient wisdom behind the energies of words we use everyday, and when I started sharing it with close friends it had a similar effect on them. Teaching Baybayin is sharing that wisdom, and it's my way of serving the Filipino people.
During the class, all participants get a chance to win a customized Baybayin Name Art. Another way to support this project is to commission Nityalila to make your own Baybayin Name Art. For just $50 (P2,500) /name, you can help support the running of more FREE Baybayin Learning Party.
DETAILS:
Digital, 10″x 10″ (300dpi), colored
Admission to this class is FREE but a suggested donation of P500 ($10) or more will be appreciated. Your support will allow the running of more Baybayin Learning Parties for many Filipinos around the world.
You can send your donations through: